Five years. Half a decade. That's how long my husband and I have been married, as of today. It's kind of crazy to think about
five whole years
, but even more so what has happened during that time. We moved to Germany (mere months after saying our
'I dos' in Central Park
), explored German wine regions we never knew even existed, took countless road trips through Europe, made the move to Berlin, all the while, unknowingly dealing with the fall-out of
my health struggles
.
I'll just come out and say it: Things have been tough for me for the last several years. My husband was by my bedside in the hospital and literally caught me when I fell after fainting at my first round of iron infusions, but more importantly, he did his best with me in the years prior to
my diagnosis
, when I struggled so much with knowing something was wrong, but never able to put a finger on it. With more sickness than health, I'm just glad he took those vows to heart.
Tucked between those valleys of lows through the years have been incredible highs. We've established a life - not just an indulgent extended stay, as I think many of our friends and family expected, or maybe hoped - in a new country. We've seen amazing things like
the bone church in Czech Republic
and
towering German castles
,
an abandoned amusement park
and teetering
Italian coastal villages
. We went to the
200th Oktoberfest
. We attended
a French wedding
on the couple's own vineyard in Bordeaux. Having not yet been in Berlin even a year, we still have much to explore and learn about our new adopted home.
And so, as I spend our special day here in Berlin while my husband is half a world away in California for work, my thoughts are on the recent few weeks off he had in which we played tourist in our still-new city, just wandering around. Day-to-day things here like U-bahn stations and street art and the significance of a beautiful sunny day are still noteworthy and satisfying, a feeling I hope does not soon fade. Because as I inch closer to my healthy self and we embark on our sixth year as partners in life, I am so optimistic for what's to come.
To my husband: I thank you for being there, in the good times and the bad, for showing me things I never thought I'd see and visiting places I'd only dreamed of. Thank you for sticking by me at my worst, and reveling in the good times together. Thank you for holding my hand through my fear of heights and my fear of needles. Thank you for accepting me as I've changed - my interests, my wants in life, my many hair colors. Just, thank you. I love you.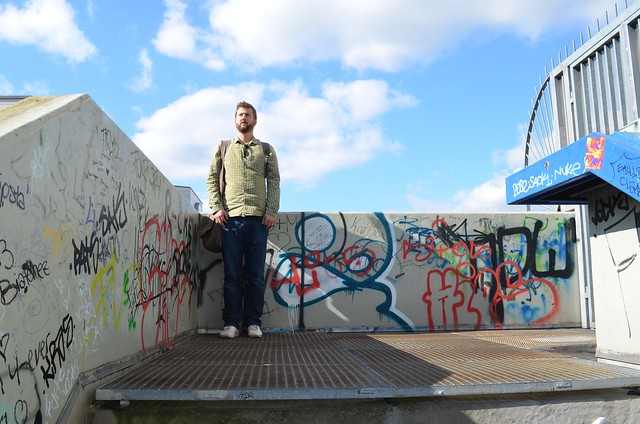 Oh yeah, that weird tower? It's the
Bierpinsel
('beer brush'), a former restaurant and nightclub that's been shut down since 2006. There's talk of reopening it, with much criticism for the plans to repaint the colorful exterior, which was done in 2010 by several graffiti artists.